CASINO CHIPS WANTED TO BUY*SELL*TRADE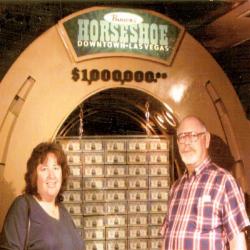 Scott Hartman "The Chip Man" & Estelle Hartman "The Chip Lady"
Toll Free 1 (800) LUCK-707
Scott & Estelle Hartman Welcomes you to "The Chip Man's" Web Page!
...and the exciting hobby of casino chip collecting...
As an enthusiastic collector, along with my wife Estelle, we BUY SELL and TRADE casino chips. We specialize in obsolete Nevada chips however I do collect interesting chips from all over the United States and world-wide. We enjoy trading with other collectors and will happily BUY SELL, and/or TRADE with you. We're always on the looking for
SURPLUS CHIPS
as well as
COMPLETE COLLECTIONS.
We are life member's #LM-501-6 and #LM-6678-89 of the Casino Chip and Gaming Token Collectors' Club. I am also a member of the ANA #R-168604. We are looking forward to doing Business with you.
Scott & Estelle Hartman
Let us hear from you...
For more extensive, answers to questions, to trade or buy, or just to chat about other chips, please contact us.
E-mail:
scott.thechipman@gmail.com

Phone: Toll Free 1 (800) LUCK-707 - 1 (800) 582-5707
Write: 9811 W. Charleston Blvd., Suite 2-433, Las Vegas, NV 89117
---